Scroll down to the end of this page to download our freebie.
Related: free princess SVG, princess SVG free, princess SVG free download, princess SVG for Cricut Design Silhouette, princess SVG
Cutting your own designs is made easy with SVG & PNG cut files. Simply download the files, upload them into your cutting machine software, and start creating! Our collection of free princess SVG & PNG files is constantly growing, so feel free to download and use them in your projects.
Before downloading my freebie, please pin the image below to your favorite Pinterest board. Spreading the word about our free SVG files helps us to keep them free! 🙂
How To Use:
Don't worry if you're new to using SVG files – we've got you covered with a comprehensive guide. This file is for personal use, and can be edited using software such as Cricut Design Space, Adobe Illustrator, Inkscape, and more. The possibilities are endless with these files, as they can be used for handmade products, wall prints, party decorations, invitations, and more.
What Can You Do With This Free SVG File?
This free princess SVG file is perfect for creating invitations, decorations, and much more. Here are some ideas to get you started:
Use it to make a cute princess invitation
Cut out princess shapes from scrapbook paper and decorate the nursery
Create a princess banner
Cut out princess onesies from felt and decorate a cake or cupcakes
Make a princess t-shirt for expecting parents
Decorate gift bags with princess decorations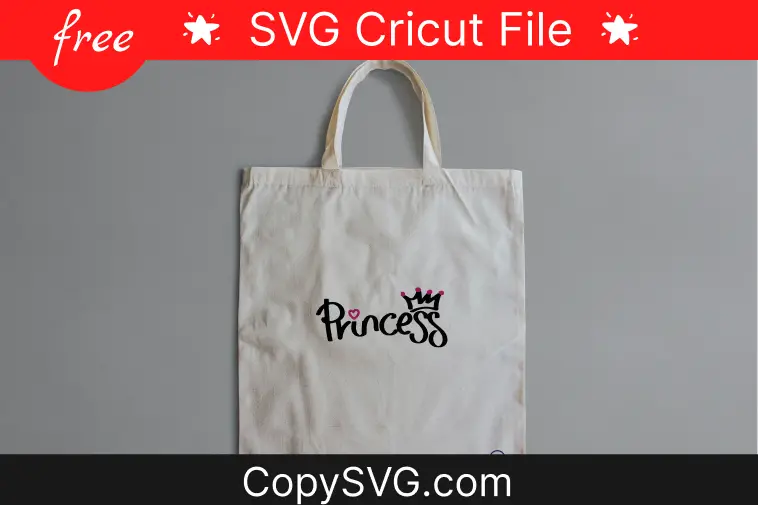 How To Edit An SVG On Cricut?
Follow these steps to edit your SVG file in Cricut Design Space:
Open Cricut Design Space
Click on the "Upload" button in the left panel
Select your SVG file from your computer
You can move and resize the image, or change the color by clicking on the "Edit" button in the bottom right corner of the preview window
Once you're happy with your changes, click "Done" to save your image in the Design Space library.
How To Edit An SVG On Inkscape?
Inkscape is a free vector graphics editor that can be used to create and edit SVG files. To edit your SVG file in Inkscape, follow these steps:
Unlock layers by going to the Layer menu and opening the Layers palette, then click on any locked layers to unlock them.
To ungroup objects, select the grouped item and go to the Object menu, then choose "Ungroup" from the drop-down menu.
To release a compound path, select the object and go to the Path menu, then choose "Break Apart."
Wrapping Up
SVG & PNG cut files are a great way to start cutting your own designs. Download our free princess SVG files, and let your creativity soar. Whether you're using Cricut Design Space or Inkscape, editing your files is easy and fun.
Download Princess Svg Free Cut File For Cricut
Download